2000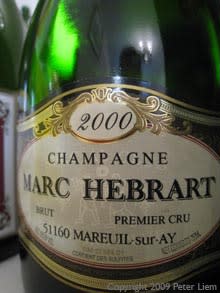 The highly-anticipated 2000 vintage began well, with a warm spring encouraging rapid growth and healthy flowering. July, however, was stormy and extremely wet, bringing four times the normal amount of rainfall as well as hail that damaged some vines. Warm weather returned in August and persisted throughout September, elevating sugar levels and permitting a harvest under sunny skies.

In retrospect, it's interesting to compare 2000 and 2001, as the conditions throughout the majority of the season were not dissimilar. Where they diverged radically, of course, is in the final stages: September in 2001 was horribly rainy, resulting in one of the poorest vintages of the last 20 years, while September in 2000 was warm and sunny, providing plenty of ripeness and allowing for the production of vintage champagnes.

Despite being saved by the September sunshine, however, the wines of 2000 have proven to be somewhat variable in quality, and one can't help but suspect that the lure of the number "2000" had some influence on the decision to make vintage wines. Overall, the character of the vintage is one emphasizing richness and breadth, and the wines can sometimes lack detail and precision of flavor. In general, the wines are relatively forward in nature and drinking well now, but they seem to vary widely in their stages of development—while the best examples still feel youthful and lively, there are others that appear surprisingly mature. Pierre Peters's Cuvée Spéciale is one of the outstanding wines of the vintage, as is Vilmart's Coeur de Cuvée. The reductive style of Dom Pérignonseems to work superbly well in 2000, while Billecart-Salmon's Cuvée Elisabeth Salmon Rosé demonstrates a lovely finesse and subtlety uncommon to the year.